"I truly believe these service-learning experiences have made me a more effective teacher and have provided students a voice and a chance to show how much of a difference they can make as a citizen, even at a young age."
-Barry J. Guillot, NBCT | 8th Grade Earth Science, Harry Hurst Middle School
About
Service Learning gives students the opportunity to meet community needs through hands-on experiences that tie classroom curriculum to service.
The STEM Library Lab Service Learning Program offers funds to support service learning projects for K-12 schools in Louisiana and Mississippi. The Service Learning Program is generously funded by the Joe W. and Dorothy Dorsett Brown Foundation.
Our program adheres to the National Youth Leadership Council (NYLC) definition and standards of Service Learning. All funded service learning projects must include classroom learning, a partnership with a service organization, and follow the IPARD (Investigation, Preparation, Action, Reflection, and Demonstration) model developed by NYLC.
We highly recommend that all teachers attend a service learning workshop to learn more about service learning and the application process. Upcoming current workshops are listed below under "Timeline of Deadlines, Workshops, Events."If your organization would be interested in partnering with us on a service learning project, please read through our proposal packet.
Got questions? Contact the Service Learning Manager, Maria Landrum, at maria[at]stemlibrarylab.org or 504.517.3584, ext. 3.
What is Service Learning?
Service learning is a teaching strategy allows students to address real-world problems within their communities as part of their academic studies. This instruction method requires ongoing reflection exercises that bridge the gap between theoretical (classroom studies) and practical (experiential) knowledge. In the end, students understand the relevance of what they are learning and experience how they can make an impact.
To be clear, service learning is not synonymous with community service or volunteerism. Community service and volunteerism do not typically include an academic component or learning about social issues in an organized fashion. Unlike service learning, the project planning involves little to no input from participants, and there is no focus on reflection, building partnerships, or improving knowledge and skills.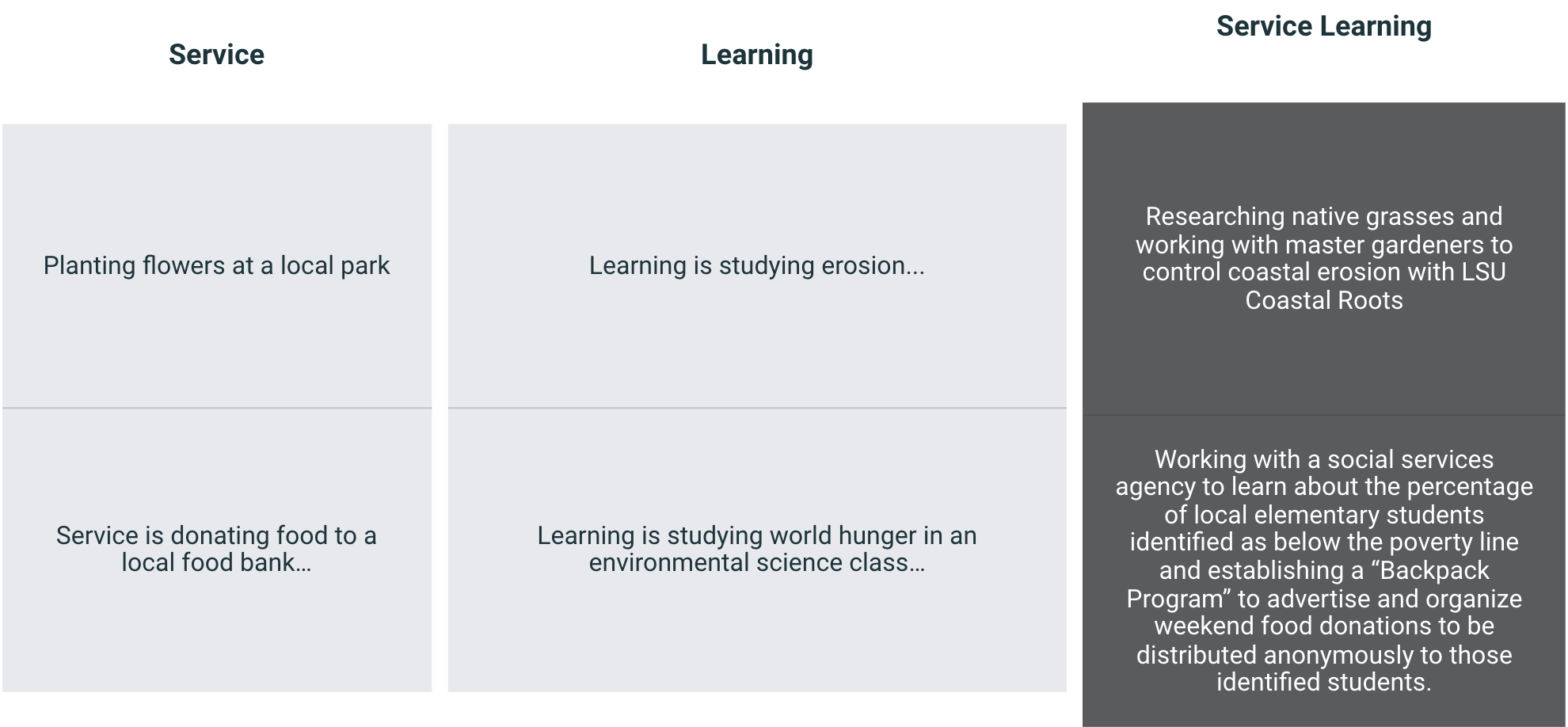 Benefits of Service Learning
Students gain…
21st century skills: critical thinking, problem solving, leadership, decision-making, collaboration, and communication
Deeper connection between academic knowledge and real-world applications
Greater understanding of themselves and empathy and respect for others
Opportunities to explore skills and interests and to network for career readiness
Provides enhanced awareness and understanding of social issues
Guided practice in active and effective citizenship
Increased self-efficacy as they address community needs
Schools gain…
Increased pro-social behavior and student engagement
An effective drop-out prevention strategy
Positive school-community relationships
Communities gain…
Energy and creativity of youth in addressing communities needs
Opportunities to build positive relationships between community and schools
New perspectives on youth as assets, not liabilities
Principal's Award
As an added incentive, a "Principal's Award" of $500 is given to each school that is awarded funding for one or more service learning projects. These are unrestricted funds to benefit the school's students, service learning program, or other projects.
Timeline of deadlines, workshops, events
February 1, 2023
Announcement of Art Contest Winner
February 1, 2023
Submission period for the service learning applications opens
February 6, 2023, 5:00p.m.
Virtual Service Learning Workshop – Register
February 13, 2023, 5:00p.m.
Virtual Service Learning Workshop – Register
February 28, 2023, 10:00a.m.
Virtual Service Learning Workshop – Register
March 6, 2023, 5:00p.m.
Virtual Service Learning Workshop – Register
March 7, 2023, 10:00a.m.
Virtual Service Learning Workshop – Register
March 20, 2023, 5:00p.m.
Virtual Service Learning Workshop – Register
April 5, 2023, 4:30p.m., East Bank Regional Library, 4747 W. Napoleon Ave, Metairie, LA 70001
Service Learning Showcase – Meet local students and service organizations participating in service learning! Join and us and see service learning in action.
April 7, 2023 (Optional)
Deadline for 2023-2024 planning worksheets – For feedback on your 2023-24 project plan before applying, submit a completed planning worksheet to maria@stemlibrarylab.org.
April 25, 2023, 11:00a.m.
Virtual Service Learning Workshop – Register
April 25, 2023, 5p.m. (Optional) – Register
Live! Project Planning Session – Maria Landrum will be available to answer any last minute questions before the May 5th application deadline.
May 5, 2023 by 5p.m.:
Deadline for the following documents:
2023-2024 Service Learning Award Application
2022-2023 Expenditure Report
2022-2023 Principal's Award Report
The IPARD Framework
The IPARD Framework represents the student-centered inquiry model in a service-learning project. Service-learning takes students through a five-stage process of Investigation, Preparation, Action, Reflection, and Demonstration (IPARD).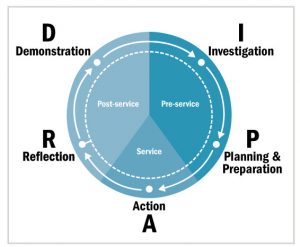 Investigation: Identify a need or area of interest in their school or community.
Preparation and Planning: Engage in planning, implementation, and evaluation processes.
Action: Begin the act of service.
Reflection: Reflect on the experience before, during, and after.
Demonstration: Share their experience with family, friends, school and/or community.
According to the National Youth Leadership Council, "Every part of the [IPARD] process is rich with learning and growth opportunities, many of them happening as students investigate community needs, identify a doable
action, plan and carry out service activities, reflect throughout the process, and share their learnings with the larger community. Even when the action seems complete, the transformation power of the process continues as students, teachers, and communities grow and new needs arise."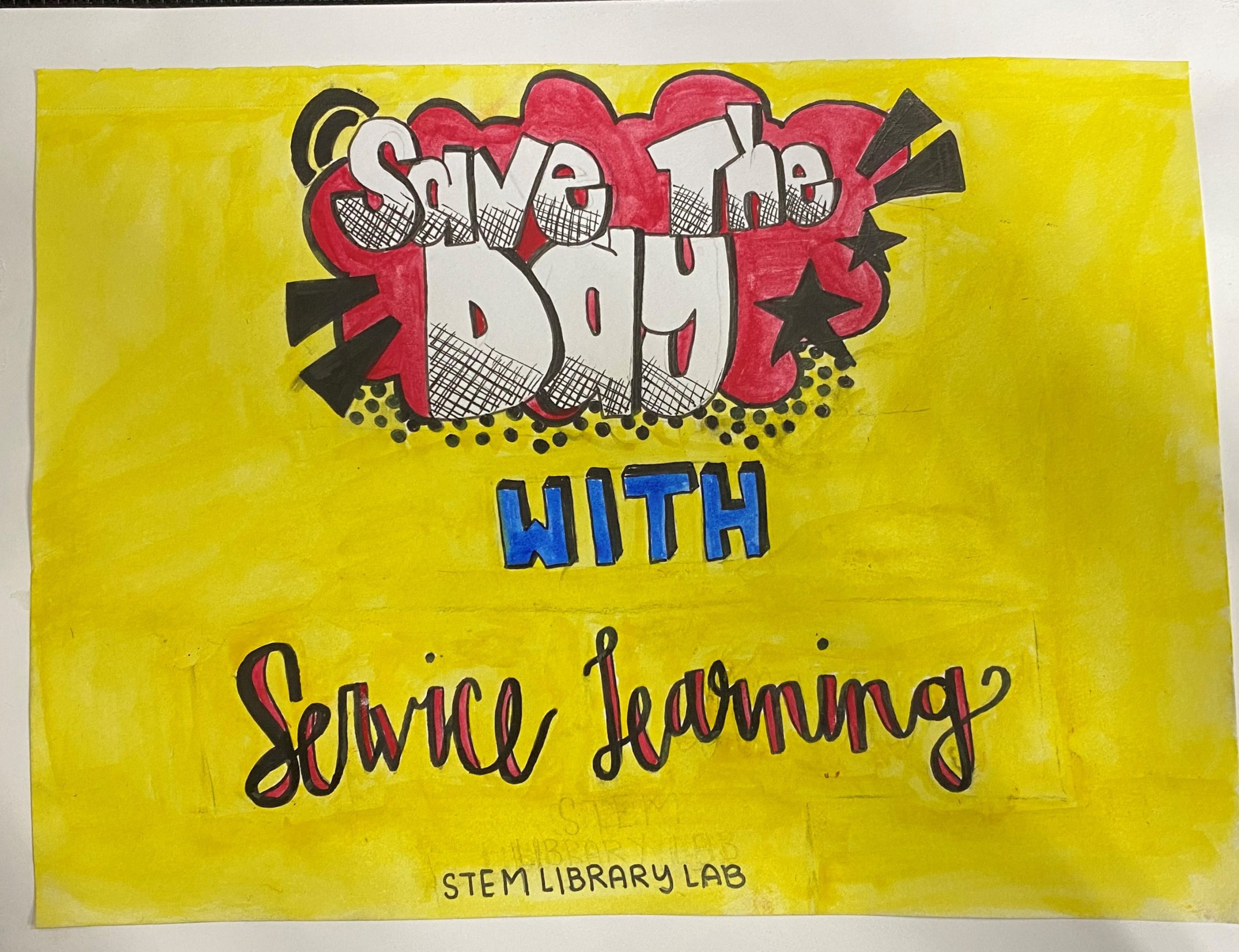 The Brown Foundation Service Learning Program sponsors an annual Service Learning art contest for students in grades K-11. The 2023 Theme and Logo Contest winner is Adelaide Friel, a student at Mount Carmel Academy in New Orleans!