"I truly believe these service-learning experiences have made me a more effective teacher and have provided students a voice and a chance to show how much of a difference they can make as a citizen, even at a young age."
-Barry J. Guillot, NBCT | 8th Grade Earth Science, Harry Hurst Middle School
Eligibility
Teachers who would like to participate in the Service Learning Program must apply for an award.
The criteria to apply is as follows:
Grades K-12 from schools in Louisiana and Mississippi are eligible.
More than one teacher from the same school

can

apply for these non-competitive awards. Each teacher may submit more than one application.
Money must be spent within the same school year received and only for the proposed service learning plan.
Money must be used only in the state in which the school is located.
Money must be used to support students and schools in their service to their community with the consensus of participating students.
Award money may NOT be used to:
Purchase uniforms of any type.
Give scholarships of any type.
Compensate teachers, substitute teachers, staff, guest speakers, trainers, etc.
Purchase equipment used solely for the school such as signage or computers.
Pay for overnight travel or retreats.
Give grants, loans, or donations to individuals or groups.
Fund extracurricular activities or clubs.
Application Guidelines
We favor applications which:
Are completed correctly and fully
Are for a specific class
Have a clear link between classroom objectives and the service learning plan
Involve student decision-making
Have a reasonable budget that clearly supports the service learning plan.
Applications for the 2022-2023 school year are accepted through May 6, 2022 and may be submitted via snail mail or electronically.
Online applications are strongly preferred, and we can help you submit if needed. You may also apply by mailing two copies of your application to:
STEM Library Lab
Service Learning Program
3011 N. I-10 Service Rd East
Metairie, LA 70002
Timeline of deadlines, workshops, events
2022 Workshop Dates:

Saturday, February 12, 10am
Register
Tuesday, February 15, 4pm
Register
Wednesday, February 16, 4pm
Register
Tuesday, February 23, 4pm
Register
Thursday, February 24, 4pm
Register
Saturday, March 5, 10am
Covington Public Library, 310 W 21st Ave., Covington, LA 70433
Monday, March 7, 5PM
East Bank Regional Library, 2nd floor A/V Conference Room, 4747 W. Napoleon Ave, Metairie, LA 70001
Tuesday, March 8, 4:30pm
Register
Saturday, March 12, 10am
Slidell Public Library, 555 Robert Blvd, Slidell, LA 70458
Monday, Mar 14, 5pm
Register
Wednesday, March 16, 5:30pm
East Bank Regional Library, 2nd floor A/V Conference Room, 4747 W. Napoleon Ave, Metairie, LA 70001
Wednesday, March 30, 5pm
West Bank Regional Library (Meeting Room), 2751 Manhattan Blvd., Harvey, LA 70058
Monday, April 4, 4:30pm
Register
Wednesday, April 6, 6:30pm
Register
Tuesday, April 12, 7pm
Register
Wednesday, April 13, 4:30pm
Register
Wednesday, April 27, 6:30pm
Register
May 6, 2022 by 4:00 p.m.:
Deadline for the following documents:
2022-2023 Service Learning Award Application
2022-2023 Theme & Logo Contest Entries
2021-2022 Expenditure Report
2021-2022 Principal's Award Report
July 1, 2022:
Announcement of art/logo contest winner
August 19, 2022:
Announcement of selected service learning applications and invitation to the Kick-Off Event
September 13, 2022:
2022-2023 Brown Foundation Service Learning Kick-Off Event
September 14, 2022:
Service Learning projects begin!
If you're excited to apply but need support writing the application deciding on a quality project, we're here to help. Start by attending an upcoming workshop, or reviewing the resources below.
Workshops
Service Learning Workshops are offered regularly during Winter and Spring. The workshops are for teachers, counselors, and administrators interested in applying for service learning awards to implement service-learning programs in their schools.
Some workshops will be conducted virtually via Zoom and registration is required to receive the Zoom meeting link
The Joe W. and Dorothy Dorsett Brown Foundation sponsors a Service Learning Kickoff Event every September, and representatives from schools receiving a service learning award are presented with award checks. Past award recipients showcase their service learning projects and service partner organizations, such as the National WWII Museum, Fast Food Farm, and the Nature Conservancy, offer hands-on activities and educational service opportunities for youth.
If you are interested in the Service Learning Program, but need more information, please email Maria Landrum at maria[at]stemlibrarylab.org or call 504-517-3584.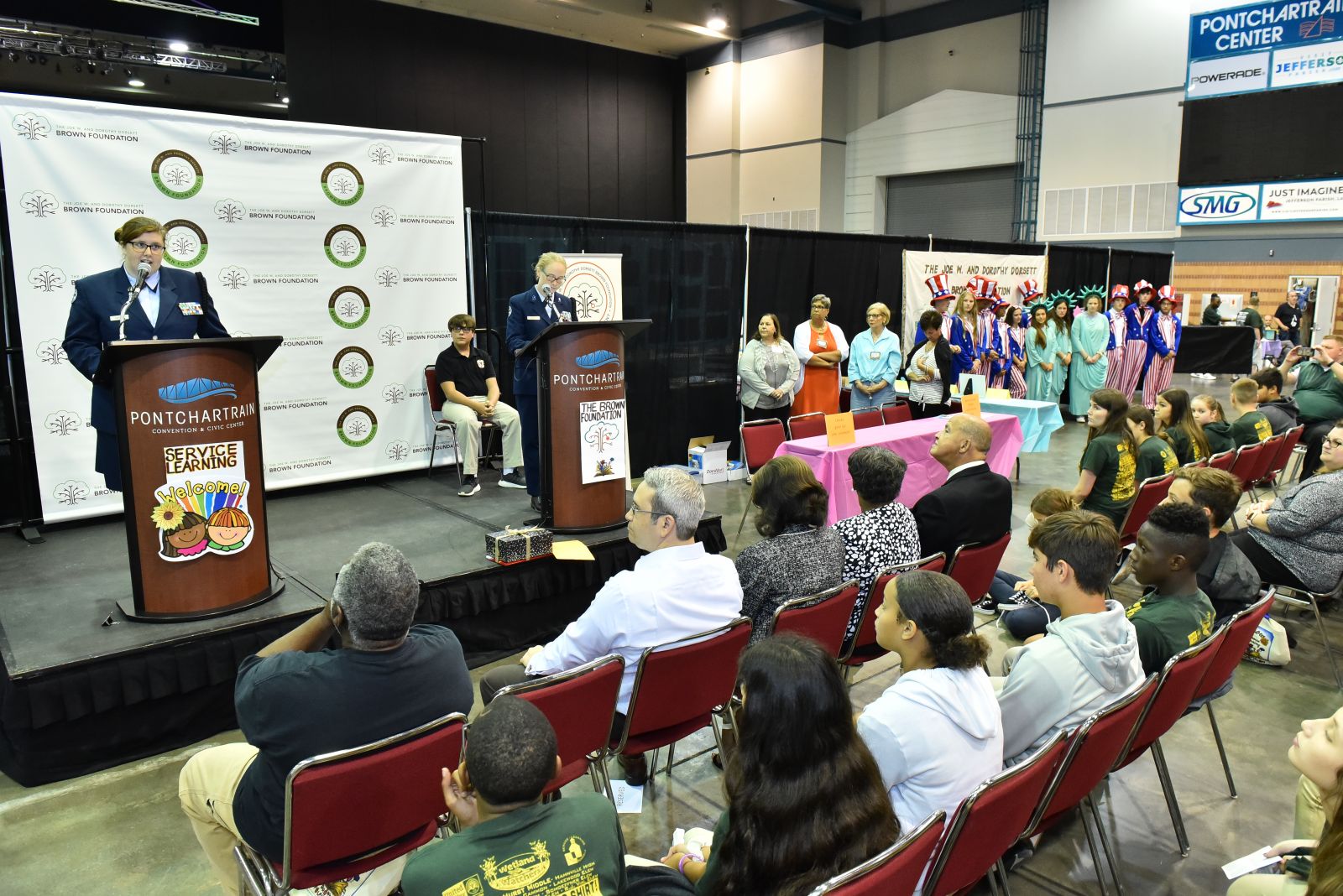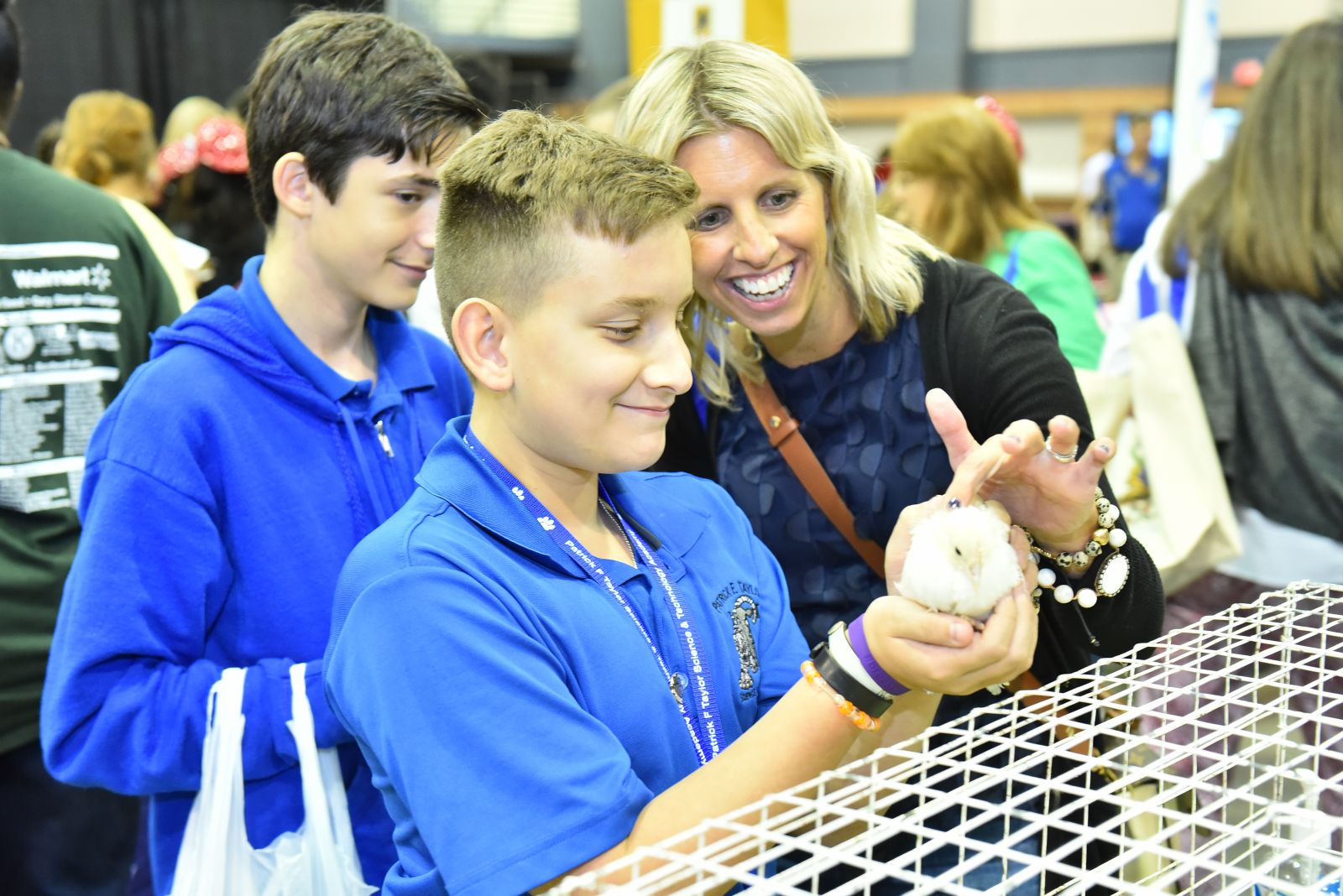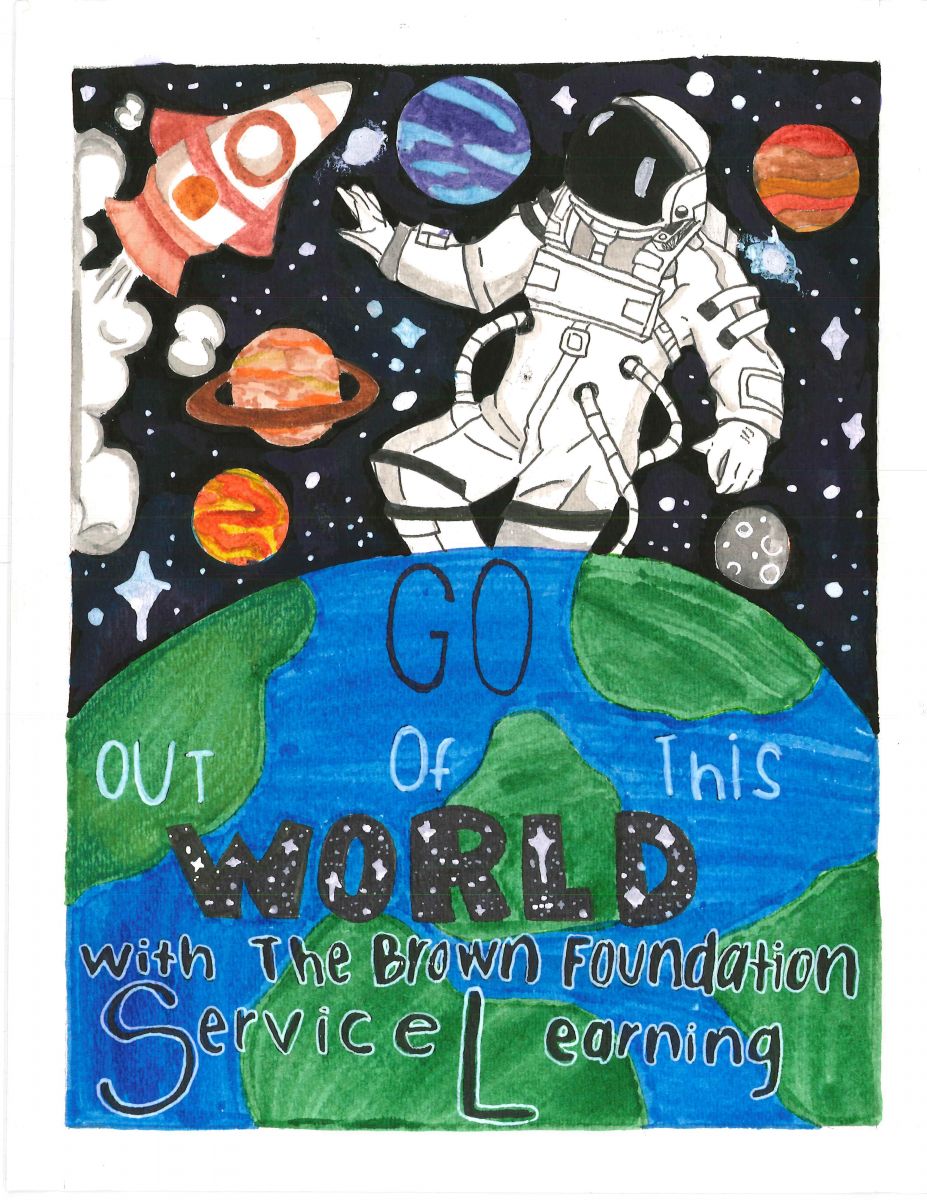 The Brown Foundation Service Learning Program sponsors an annual art contest for students in grades K-11. The 2021-2022 Theme and Logo Contest winner is Isabella Tran, a student at Mount Carmel Academy in New Orleans!