Service Learning Program Resources
"I truly believe these service-learning experiences have made me a more effective teacher and have provided students a voice and a chance to show how much of a difference they can make as a citizen, even at a young age."
-Barry J. Guillot, NBCT | 8th Grade Earth Science, Harry Hurst Middle School
Supplemental Resources
To research the topic of service learning, find ideas for lesson plans, and learn what other students are accomplishing through service learning, explore the resources below:
Featured Resources
Pinterest
STEM Library Lab has curated several pinboards full of lesson plans, reflection activities, project ideas, and other tools to help you develop your service learning program.
Reflection Activities
STEM Library Lab has compiled an extensive list of reflection activities that can be used in your service learning projects.
National Youth Leadership Council
IPARD service-learning model. NYLC leads the field of service-learning by redefining the role of young people in society. List of listserv(s). Service Learning toolkits. K-12 Service-Learning Standards for Quality Practice. Project examples. Service Learning Handbook.
The GoodCharacter Service Learning Primer
K-12 project examples. Reflection questions and activities.
Learning to Give
Lesson plans for K-12 coded to Common Core standards.
Youth Service America
Project ideas including virtual service projects. Toolkits. Lesson plans. Webinars. Technology Tools for Service Learning.
CBK Associates
Lesson plans. Guides for kids and teens on tackling the subjects of climate change and global warming, hunger and homeless, reading, protecting and caring for animals.
Malcolm Shabazz City High School
Service learning ideas arranged by subject area.
Idealist
Lists of nonprofit organizations/potential community partners.
Trash Tree Waste Awareness
Project ideas. Lesson plans. Curriculum web on how to connect the topic to academic subjects. Students at New Foundations Charter School in Philadelphia educate the community about "reduce, reuse, and recycle."
Harkins Consulting, LLC
Project ideas for all ages and all subjects.
Constitutional Rights Foundation
History/Civics/Social Studies. Lesson plans. Project ideas.
EarthEcho International
Water science lesson plans for middle and high school, including rain barrel installation.
KIDS Consortium, Integrating Scientific Practices and Service-Learning Guide
STEM service learning project ideas.
United Nations Sustainable Development Goals
Project ideas.
Magnified Giving
IPARD Service-Learning Process. Lesson plans. Student Resource Library with project ideas.
Connect Science
Lesson plans for science, SEL, and service learning.
PowerPoint Template for student service learning orientation
This is an optional PowerPoint and worksheet that can be modified and used to introduce students to service learning. Your first lesson should include an overview of the IPARD process that students will follow during the service learning project.
Research on Service Learning
Ready-to-go Service Learning Projects
NEW! Ready-to-Go Project Options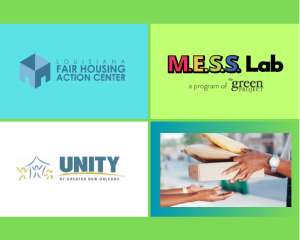 Ready-to-Go, or pre-packaged, service learning projects have been developed with The Green Project, Louisiana Fair Housing, and UNITY for the 2023-2024 school year. The service component has been paired with relevant classroom curriculum and is aligned with Louisiana standards. Curriculum may be provided as lesson plans for the project, delivered by educators from the service organization, or a combination of both. Applications and project outlines are available here. To apply for a Ready-to-Go project, submit a completed application via email, snail mail, or in-person at 3011 N I-10 Service Road East, Metairie, LA 70002.
*2023-2024 Housing and Homelessness Application
*NEW!! The Service Learning Program is accepting Spring 2024 applications for the Recycling M.E.S.S. Lab Ready-to-Go project between November 15 – December 15, 2023.  Click here to access the application! 
Rain Barrel Project with Green Light New Orleans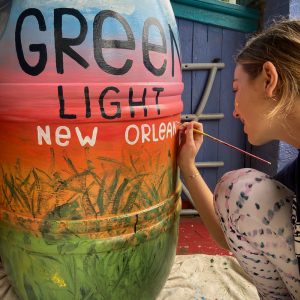 The Joe W. and Dorothy Dorsett Brown Foundation is pleased to support Green Light New Orleans' Rain Barrel Service Learning Program. Green Light repurposes rain barrels to combat erosion and street flooding, and they invite your students to help with this process. Green Light will provide  rain barrels, lesson plans, and paint materials to your school.  This project is available to schools within the levee system of Orleans, St Bernard, and most of Jefferson Parish, Louisiana. To apply, submit a completed application.
We offer a lesson plan to accompany the project!
Get In the Scrap! with The National World War II Museum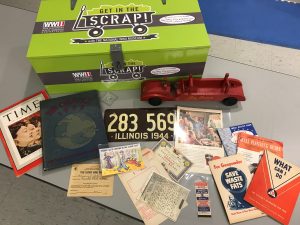 The Joe W. and Dorothy Dorsett Brown Foundation is a proud sponsor of The National World War II Museum's Get in the Scrap! Service Learning Program. Inspired by the scrapping efforts of youth during World War II, Get in the Scrap! is a national service learning project about recycling and energy conservation. Most projects can be done without students leaving a school campus. To sign up, visit getinthescrap.org.